Danielle Lachana
We continue our Mediterranean journey with another cruise around some of the Greek islands. Today, on the occasion of the upcoming Cretan Diet Festival (July 5th - 12th) http://www.cretandietfestival.gr/en/ it seems appropriate to start with this, the largest island in Greece.
In recent years Crete has been renowned as central to the Mediterranean diet, and its ''success'' in this area is largely due to its abundance of fresh, home produce, from cheese, to fruit, through vegetables, meat and fish - in fact the island is self-sufficient.
Today's recipe is exemplary of Crete's simple yet nutritious fare - an excellent appetizer or even light meal generally known as 'Dakos' or 'Ntakos'.
The base of Dakos is a hard rusk (paximadi), traditionally made from barley, which is rich in dietary fibres, aids the digestion and provides a lot of energy. This combined with the vitamins from the tomatoes, calcium from the cheese and the antioxidants and healthy fats in the olive oil, makes it not only a particularly healthy choice, but a very tasty one too. If you cannot find Cretan barley rusks, such as the ones in the photo below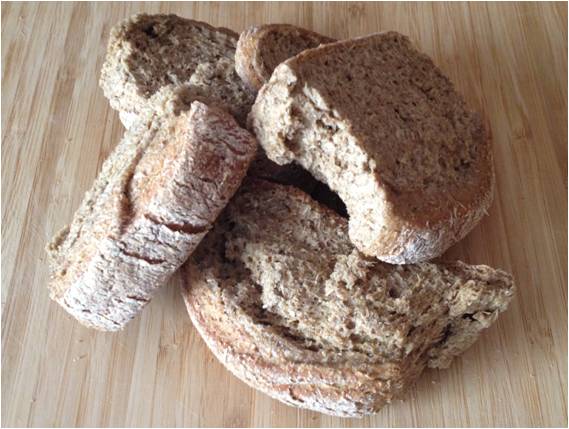 you can substitute with another type of hard thick rusk or, failing that, with thick slices of toasted or grilled country bread, in which case, do not dip in water to soften.
For the more adventurous, here is a link for making your own rusks!
http://theshepherdandtheolivetree.com/2012/01/15/a-recipe-for-traditional-barley-rusks-or-paximadia/
Likewise in Crete, typically 'Xinomizithra' ('Sour' Mizithra) cheese from Chania is used, but you can substitute this with the more readily available Feta.
***
RECIPE
(Serves 4)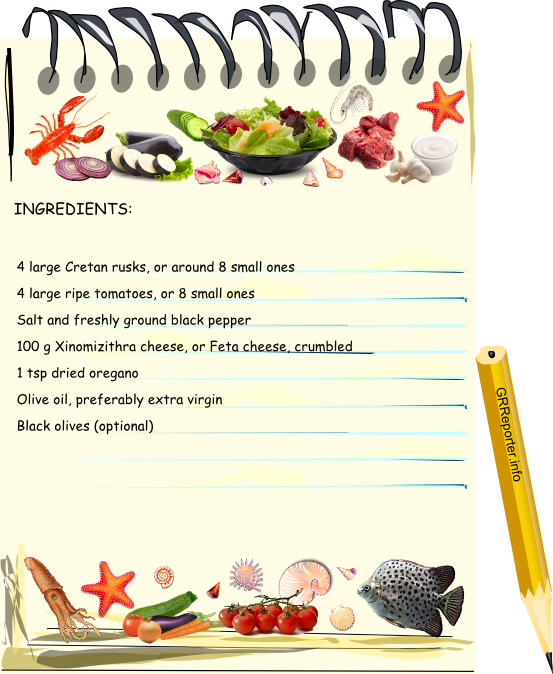 METHOD
Lightly dampen the rusks under a running tap on both sides to soften them just a little. Do not overdo this as they will absorb some of the tomato and oil too and may become too soggy.
Lightly drizzle some oil over the rusks.
Cut the tomatoes in half and grate them on a coarse grater - the skin should remain in your hand, discard it. If you prefer, you can deseed the tomato first although this is not necessary.
Spread the tomato 'puree' on top of the rusks and add a little salt and pepper. Cover with the crumbled cheese.
Sprinkle with the oregano and drizzle with more olive oil to taste.
Top with olives, if liked.
Kali Orexi! Enjoy!